hello,welcome to visit our website!  Today is 

Contact Us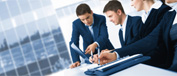 SHENZHEN ORGA INT'L FREIGHT CO.,LTD.
Tel:+86-755-36938383
Fax:+86-755-23593641
Add:25/F SHANGMEI CENTER, NO.182, HEPING ROAD, LONGHUA NEW DISTRICT, SHENZHEN, GUANGDONG, 518109 CHINA
Ukraine's Black Sea ports work normally despite military crisis
From:Orga Time:2014-03-06 21:13:00 Views:
STEEL and corn continue to flow from major Ukraine Black Sea ports that are operating normally despite rising political tensions, say officials and traders.

"All the loading and unloading operations are being conducted on time; all stevedore companies are working normally as well," Ukraine's infrastructure ministry said in a statement, Reuters reported.

Ukraine ports have shipped some 22.7 million tonnes of various cargoes since the start of 2014, roughly equal to turnover by the same date a year ago.