Amazon Global Selling Solutions Provider
As part of the Amazon Global Selling Solutions Providers Network (SPN), ORGA Logistics can help Amazon sellers with their FBA and self-fulfilled international shipping needs; warehousing and fulfillment; and returns management

We Make Global Selling Easy for Amazon Sellers
ORGA Logistics is experienced at helping Amazon sellers with their global logistics needs, which is why we are a part of the Amazon Global Selling Solutions Provider Network.
Logistics solutions supported by the ORGA Logistics network:
1. FBA (Fulfillment By Amazon) and Self-Fulfilled (customer-direct) One-Stop shipping services
2. Ex-Works export shipping (from your supplier to Amazon door)
3. Free-On-Board (FOB) exports shipping
4. Customs Clearance for shipper routed freight
5. Domestic warehouse & trucking services from any C,N. port
6. Port-to-Warehouse transportation
7. Basic quality inspection of packaging and card condition
8. Extensive quality inspection of product
9. Complete warehousing and fulfillment solutions
10. Re-packaging services
11. FBA labeling services
12. UPS/Fedex/DHL prepaid freight courier service
13. Product recovery and return services
14. Less-than-truckload (LTL) and full truckload (FTL) solutions with great rates
15. We cover all of the links in Amazon sellers' global supply chains!
Procedure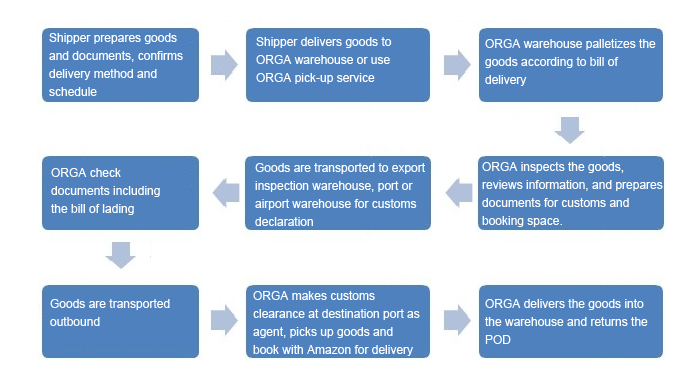 Palletizing Requirement::
1. Fumigation-free pallet, 80x120cm, EUR and EPAL printed on both sides of corner. No damaged pallet is allowed. Palletizing is required if goods are higher than half of the pallet.

2. Pallets stacked in the single-layer mode including the pallet height should be less than 1.6m, while that in the double layer mode 3m. Cargo operation should be from the rear of the vehicle.

3. No cargo would be accepted by the AMAZON warehouse without advance reservation to confirm the quantity of goods, boxes and pallets.

4. Single package of goods greater than 15 kg should be packed in a pallet and labeled with Heavy Weight.

5. Shipment document including delivery form should be placed on a striking position.

6. The cargo must be arrived on schedule allowing 30mins difference. Any delay should be noticed in advance to Amazon in the email on reservation.

7. The total weight on the pallet should be less than 600kg/pallet, while the height of the carton should be lower than 25mm above the pallet. The packed pallet should be wrapped by PE film.

Vehicle condition:

1、No vehicle would be accepted except those with a minimum loading area of 2.35m in width, a minimum cargo hold height of 2.30m, the overall height of less than 4m and a minimal gross vehicle weight of 7.5t.

2、Enough distance should be maintained between the front sides of pallets for unloading (Amazon never conducts unloading from the side of pallet).

3、The pallets cannot be obstructed by any other cargos including empty pallets or that belonging to other recipients, otherwise, Amazon might reject to receive the goods.

4、Delivery drivers should wear fluorescent uniform and safety shoes.

5、The delivery pallets shall allow rear unloading by Amazon PPT/FLT.

6、Double-layer pallets should be delivered by a chain-connected truck.

7、The adjustable rear panel should not be lower than 1.1m

8、The delivery truck must be qualified for cargo's safety ruling out such cases as slopping pallet or damaged vehicle baseboard.

9、Amazon rejects any goods damaged during transportation.

10、Amazon rejects any delivery in the form of container.