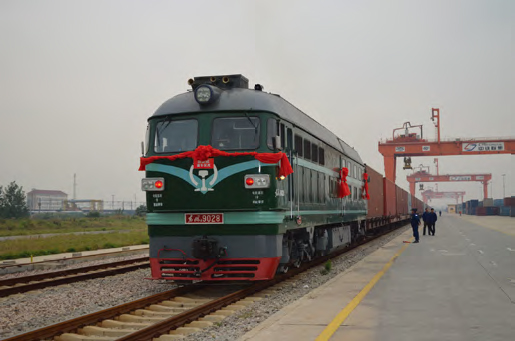 We have continuously enhanced our dispatching capacity in the container train business of central-Asia and central Russia by improving service quality and close cooperation with railway, container yard, frontier inspection, commodity inspection, customs and fleet, attracting more customers engaging in Mid-Asia and Central Russia trading to choose us as the first supplier of logistics service. Thanks to the long-term support of customers and partners and our improving service ability, we have grown into a leading player in the segment of market. We currently provide multimodal transport service from major Chinese cities to most sites located in Kazakhstan, Uzbekistan, Kyrgyz, Tajikistan, Turkmenistan and Russia. We can provide self-owned containers at the loading port as required by customers, free from cargo damage during the route.
Railway- marine combined transport
ORGA has established strategic partnership with major railway agent such as CRCT and CRRC as well as shipping Lines like CSCL, COSCO and FESCO. We offer very competitive international railway-marine combined transportation services and integrated transportation solutions based on our sound agent network across the globe, ensuring one-stop transportation, once consignment, once settlement and one bill for the whole line.
Strength:
Daily track system
Professional team with rich experience.
Providing your cargo with qualified equipment of container 20',40',and 40HQ in most Chinese port
Close relationship with Custom and railway company of China.

Main lines:

South China, East China (Marine) Lianyungang (Railway)→Alashankou→Dostyk→CIS Countries / Russia ,
South China, East China (Marine) Lianyungang (Railway)→Khorgas→Altynkol→CIS Countries / Russia
South China, East China (Marine) Tianjin (Railway)→Erenhot → Zamyn-Uud→ Mongolia
China(Marine) Vosochny/Vladivostok →(Railway)→Russia